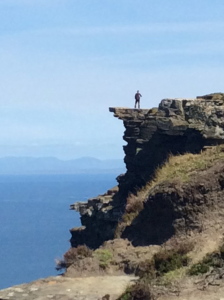 Monday. It began with a funny story where yours truly is the brunt of the humor and ended with an amazing Young Life Banquet where Jesus was clearly central: high and lifted up!
Allegorically, it's the story of each of us. Whether things look and feel good or bad, in our flesh, we are living on the brink of eternal disaster. The good news is we are invited to be children of our Heavenly King! To share in His royal banquet table. Though it's all up to Jesus, sometimes He gives us a little help from our friends to find our way from darkness to light.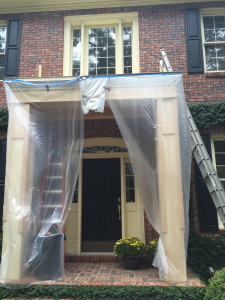 James 1:17 "Every good and perfect gift is from above, coming down from the Father of the heavenly lights, who does not change like shifting shadows."
We were keeping Penny, my daughter's young dog. I took her for a quick visit to the grass before my busy day. I noticed the plastic sheets protecting Rob's front porch renovation had flipped up exposing everything to the next few days of forecast rain…
Rob was already going to be late to work after hauling 2 grills-on-wheels Young Life was borrowing for the event that night. Surely I could climb on the porch roof to resolve this without help.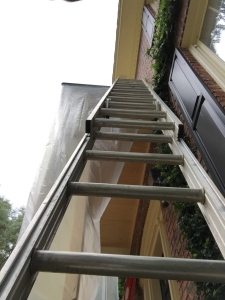 No problem getting up the ladder or repositioning the plastic to protect the wood. Penny happily frolicked below. All was well.
Then I inched to the edge of the roof and sat by the extension ladder (all while on the phone with a friend). I quickly and correctly realized there was no possible way to get on the ladder from my current position without falling.
Panic set in… I admitted my predicament to my friend (who had no idea I had climbed onto the roof as we talked), and she offered to come over. I hesitated then accepted. At least she could call 911 if I fell!
Ecclesiastes 4:9-10  "Two are better than one because they have a good return for their labor. For if either of them falls, the one will lift up his companion. But woe to the one who falls when there is not another to lift him up."
We hung up, so I could call Rob who had climbed all day Sunday for advice (what kind of nut takes a phone up a ladder to the roof?? Thank goodness I did!) He had been this path before…
Proverbs 17:17 "A friend loves at all times, And a brother is born for adversity."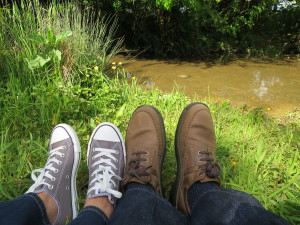 Nothing Rob suggested made sense — unless he wanted me to use the extended top of the ladder for torc to bury me after I fell! Tears began to flow.
Just as it began sprinkling Rob said, "This is bad."
I countered, "I know it is! I'm crying and scared!" All while thinking, why is my calm and steady husband telling me it's bad… he's supposed to have answers, not add to the misery.
He said, "No I mean the girl is gone."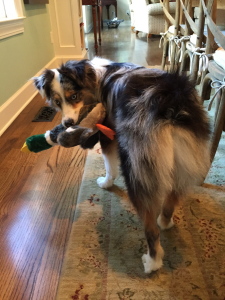 Me: "What girl?" Now I'm wondering why he cares about any other girl in the world when "his girl" is stuck on the roof crying in the rain!
Him: "No, the grill! I dropped off the first grill in the Bonefish parking lot just 15 minutes ago, then went to get the 2nd… now the other one is GONE! This is bad."
Me: "Wait a minute — PENNY, come back! Good girl, now stay." (Hahaha… that was repeated continuously as she enjoyed her freedom.) "Oh no, do you think the grill is stolen? Hang up and do what you need to do! I'll figure this out myself…" More crocodile tears, but I'm capable, self sufficient and reasonable (that's what got me up here in the first place).
Rob brought back from the missing grill to the roof crisis says, "No, we'll get you down first!"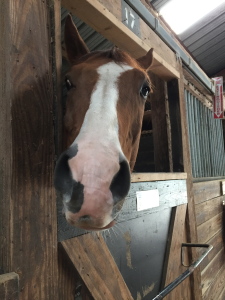 I was humbled, out of ideas, and very willing to accept help despite our disconnect. With a little more talking we realized Rob was assuming I was standing when in reality, I was sitting beside the ladder with my legs dangling over the ledge (the position that seemed safest to me when 15 feet in the air).
Proverbs 12:15 "The way of a fool is right in his own eyes, but a wise man listens to advice."
Perspective is everything… all his catastrophic directives became scary but understandably correct when I stood up. I hugged the rungs and made my way down the ladder, just as my sweet, loyal friend pulled up.
Safely on the ground, we hung up to let Rob find the missing grill. (Despite Bonefish being locked up and dark, it seems the chef was present and had pulled the grill around back. False alarm. Mystery solved!)
My friend and I got Penny inside, then realized the plastic had blown back on the roof! Thank goodness Divine intervention blew it down again and we taped it in place. Most of all my compassionate sister was present with me until I regained composure. Though I was never in real danger (what's a little time spent on the roof in a thunderstorm?), I was shaken up.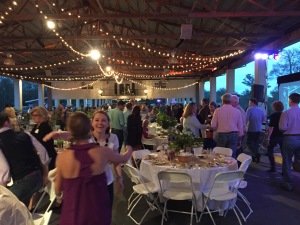 Running a little late, but no worse for the wear, I went about my schedule in anticipation of Act II: The Young Life Banquet — where the real story is told.
I wish you ALL could have been there! An army of volunteers with some incredible leaders transformed a horse arena into a banquet hall fit for a royal celebration! Almost 600 guests began flowing in while over 100 high school and college volunteers served and prepared finishing touches. Smiles, hugs and conversation were so plentiful we had trouble getting the show on the road.
But a well-known and beloved FSU coach could preach with authority what needed to be said, "Y'all need to sit down and be quiet, so we can pray!"
A hush fell over the crowd as he thanked Jesus for all His bounty and blessings, for all the families represented, for the food, the venue and for Young Life… all in Jesus' name.
Romans 12:6  "In his grace, God has given us different gifts for doing certain things well."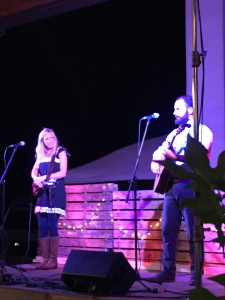 Many spoke after Him. We even had a performance from well-known Christian singers who believe in Young Life and even more so, in Jesus. We sang. We prayed. We laughed. Some cried. We heard stories about how people realized for the first time that they mattered personally to a God who cares about the details of our lives.  A God who says come as you are… through Jesus, I want to bring you from death to Life! Life to the FULL!
From start to finish it was all about Jesus. Our desire is that the name of Jesus would be lifted up every time we have a Young Life event, and Monday's banquet shouted His name in praise! I sensed no one wanted to leave…
While most good things come to an end, God's love doesn't! He is the Living Water. Jesus said in John 4:14, "whoever drinks the water I give them will never thirst. Indeed, the water I give them will become in them a spring of water welling up to eternal life."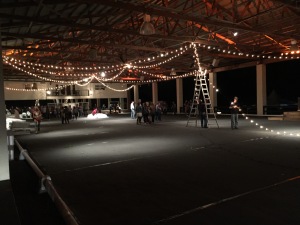 That's what I saw happening as guests reluctantly left for home, and others worked together to transform the royal banquet hall into an arena ready again for horses.
As I read posts and heard the buzz Tuesday morning, it was obvious Jesus is still working — welling up in us the desire to love and seek Him, and to carry out His purposes — wherever we fit in His body.
Hebrews 4:16 "Therefore let us draw near with confidence to the throne of grace, so that we may receive mercy and find grace to help in time of need."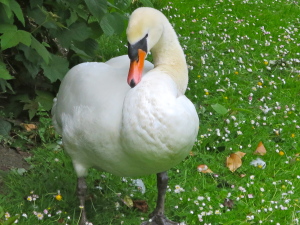 We had prayed for all the details of the night we could think of. John 14:13-14 says, "Whatever you ask in My name, that will I do, so that the Father may be glorified in the Son. If you ask Me anything in My name, I will do it."
The rain held off and hearts were touched. I'm pretty sure we haven't seen the end of how Jesus will use that night where some broken people humbly sought to proclaim Jesus and what He is doing with the hope of ultimately sharing the Gospel with Tallahassee's adolescent population.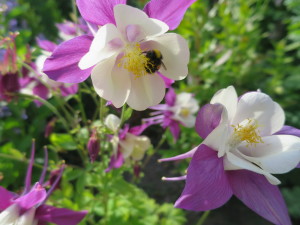 Ephesians 3:20-21 says "Now to Him who is able to do far more abundantly beyond all that we ask or think, according to the power that works within us, to Him be the glory in the church and in Christ Jesus to all generations forever and ever. Amen." And AMEN!
If this post resonated with you, please share it through the social media buttons at the bottom of the page. If you want to receive future posts straight to your inbox, let me know in the comments below. Or you can join the Pink Reflections  Facebook community. Thank you!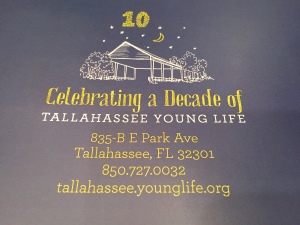 link to Tallahassee Young Life