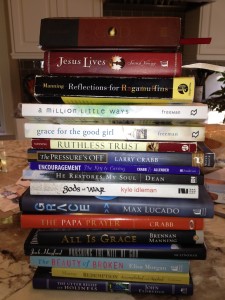 You've heard the saying "there's nothing new under the sun." In fact it's from Ecclesiastes 1:9, "What has been will be again, what has been done will be done again; there is nothing new under the sun."
I read a lot. Most of my blogs are a big compilation of ideas from other books (including the BIBLE) — Books written by authors much more learned (seminary sure taught me that) and wiser than I. Add to it some of what God is doing in my life, and I believe God writes with me. The less of me and more of Him there is — the better the read. 😉 I'm just sharing the amazing things He is doing in me. Things that I could not and would not do, be or learn without His Holy Spirit. Glory to God!
If you'd like recommendations, I'll link you to my Pinterest page with Books I've loved. This is in no way a conclusive list — this section is a work in progress!
http://www.pinterest.com/louisewm/books-i-want-to-read-or-reccommend/
And here are pictorial lists of my most current reads from random times — Most of them, I could not put down. So many talented writers who love Jesus and want to share ALL they know of Him.