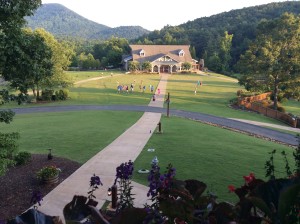 I don't want to spoil any of the over-the-top surprises and wonders of Young Life Camp for future high school-aged guests. From a camper's perspective and experience, you'll see and read less here than you can on the YL website. What I want to write about is all God wants me to bring home and live out from my adult guest experience at Sharp Top Cove.
Rob and I ended our wonderful week at camp on my 50th birthday. I have felt God teaching me this last year about ways I need to change, and how my life should look on the "back nine." With Young Life Camp as the exclamation point on His year of lessons, what is He saying? How shall I live?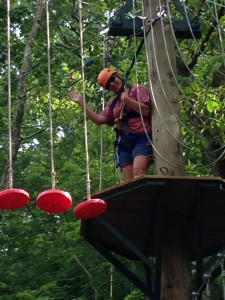 On the outside Young Life Camp feels and looks like all fun and games. No one is bored with the Gospel there! A beautiful setting with everything taken care of for the campers, who are treated like royalty. As they walk through a human tunnel of  enthusiastically cheering kids their own age — truly just glad the campers have arrived to be served — the campers get their first glimpse of the week ahead: the best week of their life! "Let me take your bags and show you to your cabin." The kids walk in to the lodge style accommodations and are taken aback by the professional decorations and attention to detail and comfort. And it's all for them.
As they get off the bus they are told that for the week, this camp is yours! Off they run to freedom — to blob, zip line, slide, swing, play and hangout with their friends. The running, frenzied pace at which they try to experience it ALL that first day, makes you think they think it may be a little too good to be true.  In an unstable world, it seems they're trying to grab it all and take it all in, while they can! The one thing removed from their world this week (that is so pleasantly notable) is electronics of all kinds… no phones, computers, itunes… just friends and this awesome camp.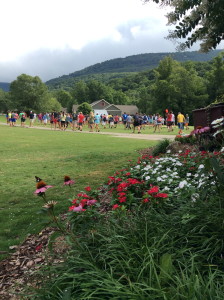 Behind the scenes, it's the staff's  intentionality in all the details and the spirit of the abundance and the fullness of God's provision that impressed me. A philosophy of excellence, service and surrendered trust in God is apparent in every aspect of their ministry. This attitude in each moment and each task is what I want to bring home to my everyday life. Colossians 3:23-25 (MSG) says, "Servants, do what you're told by your earthly masters. And don't just do the minimum that will get you by. Do your best. Work from the heart for your real master, for God, confident that you'll get paid in full when you come into your inheritance. Keep in mind always that the ultimate Master you're serving is Christ. The sullen servant who does shoddy work will be held responsible. Being a follower of Jesus doesn't cover up bad work."
I saw these verses lived out daily in the staff, volunteers and activities at Sharp Top Cove. Despite their fatigue and the monotony of some of their jobs, it is those involved in the "daily grind," the business of making Young Life Camp happen, whose faces  reflect the MOST love and joy. There's a secret for me in that obvious truth. Another verse comes to mind,  2 Corinthians 12:9 (NIV) "'My grace is sufficient for you, for my power is made perfect in weakness.' Therefore I will boast all the more gladly about my weakness, so that Christ's power may rest on me."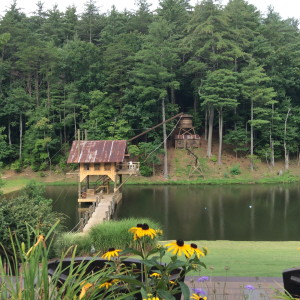 The skits and singing, the lake activities and climbing, through cabin time and quiet time, delicious AYCE meals and soft clean sheets — everything point to the Gospel and Jesus. Everything. That's how I want to live my life — as a living sacrifice, fully alive, glorifying God and enjoying Him forever. Loving HIm with all my heart. soul, strength and mind, and loving my neighbor as myself. I've never seen a sincere, living example of the Gospel quite like at Young Life Camp.
The Challenge? How do I bring it home to my daily grind? Don't get me wrong… my life is wonderful in most ways. Still, there is a "daily grind" so to speak… meals to prepare, floors to clean, clothes to wash and bathrooms to scrub. Bills to pay, necessities to purchase, calendars to manage — and that's all outside of the office! No one is really taking care of the details for me here.  In addition most of us in the sandwich generation juggle family obligations and privileges at a pace that's hard to explain or achieve. We just feel  crazy busy and struggle to even fit in our quiet time. Even so, I feel God is saying, you can experience that same camp life, here and now. "The thief comes only to steal and kill and destroy; I have come that they may have life, and have it to the full." John 10:10 (NIV)
I think this post will be ongoing… as I uncover more of what God is saying to me, so I'll start with a few observations, in no particular order.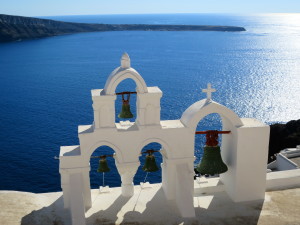 More to come as I continue to listen. For now, "Abba, thank you! You gave me several periods of rest — in Europe, at the beach and at Young Life Camp, because you love me and care about the details of my life. You removed me from the frenzy of the daily grind and spoke to my heart. Many of the more stressful circumstances of my life are not yet improved, but I feel Your Peace. Thank you for reminding me to rest in You, trust in You, and to find life and love in YOU!" In Jesus name, Amen.
If you would like to receive future posts by email, please let me know in a comment below. Thanks!