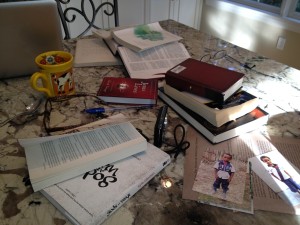 In this section I've listed some of my favorite resources. Every day I read from one of several daily devotionals — online and bound books (I can never replace holding the real thing).
And blogs… I find they are often a refreshing "friend" in a busy world.
I always have a book or two going. God has used books and the experiences of others to most effectively draw me to himself. When I list those who have been most influential in teaching me about my faith, many are authors I've never met. Perhaps that is my pull to writing for you. I would be so humbled (literally tears well in my eyes now) and honored to know my experiences, my words and my reflections were used by Jesus to touch another.
The danger for me is to go through spells where I replace the Living Word with the words of others. I trust in their experiences at the expense of seeking my own. I don't make time to be with Jesus alone. While for the most part,  I read books steeped in scriptural backup and proof, there is nothing that compares to reading the inspired Word of God for yourself. Asking the Holy Spirit to speak to you through His words… marking it up with dates and messages that mean nothing to anyone but me and Jesus. If you aren't reading your Bible for yourself, I encourage you to start there. At least a little everyday. You will be amazed at how He longs to love you and guide you through the Bible as you seek the Holy Spirit.
James 1:5-8
5 If any of you lacks wisdom, you should ask God, who gives generously to all without finding fault, and it will be given to you. 6 But when you ask, you must believe and not doubt, because the one who doubts is like a wave of the sea, blown and tossed by the wind. 7 That person should not expect to receive anything from the Lord. 8 Such a person is double-minded and unstable in all they do.
Hebrews 10:22
let us draw near to God with a sincere heart and with the full assurance that faith brings, having our hearts sprinkled to cleanse us from a guilty conscience and having our bodies washed with pure water.