1 Corinthians 12:6 "God works in different ways, but it is the same God who does the work in all of us."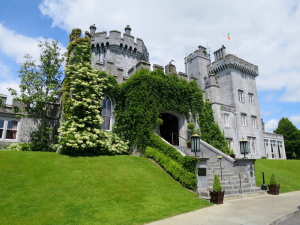 I'm offering a glimpse into my awkwardly-haulted, mid life, empty-nester, sandwich generation life — but I'm hoping you won't diagnose me just yet. Because wonder and expectation are the joys I'm beginning to taste, as God gives me a new perspective on who I truly am, and why I'm here right now. This crazy "bunny trail" might be fruitful after all.
If you're new to my blog, you can click on red links for previous posts. Since last spring God's message to me has been to abandon many things that once defined a good Christian life to me. To be still and listen for His voice. Midlife is a new stage, and He is doing a new thing! So, I stopped doing much of the activity that felt comfortable,  good and right. My days begin as a pretty blank slate and end full to overflowing,  but without an easy description.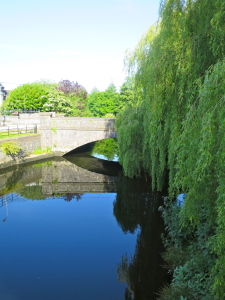 In my decreased "doing" and increased "being" I've felt… what? It's still hard to articulate. For the first extended period of my life I've felt insecure, inadequate, afraid, vulnerable, old, obsolete, invisible… like the me I know is slipping away.
Isaiah 43:19 "For I am about to do something new. See, I have already begun! Do you not see it? I will make a pathway through the wilderness. I will create rivers in the dry wasteland."
At the same time, I feel confident that God is doing something important — preparing my heart for what's next. Secretly I'm expectant, but I'm also embarrassed. It's now obvious to the casual observer that I'm muddling.
I was once a young girl living for achievement to prove my worth.  Could it be that my adult "performance pendulum" needed to swing to what FEELS TO ME like the opposite extreme — an unproductive and worthless life — when in reality, I am discovering my sweet spot in seeking Jesus and His will for my days?
2 Corinthians 12:9 "My grace is sufficient for you, for my power is made perfect in weakness."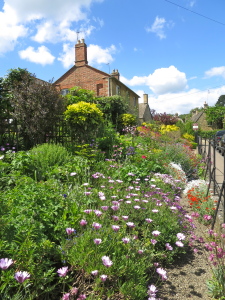 I think God's current work in me required this path where not much makes sense and I feel inept — because this season leaves me increasingly distrustful of my flesh and clinging more whole-heartedly to God: His love, His Word and His Sovereign goodness.
Galatians 5:24 "Now those who belong to Christ Jesus have crucified the flesh with its passions and desires."
I cherish solitude. I need to discover who I am in His eyes, what He's teaching, and where He's calling me. To allow Him to search me and show me where I need to repent. To let God fill me to overflowing. Oftentimes so much solitude feels lonely, but His call is stronger than the world's distraction.
Sound peaceful? Think again. Here's that real-life glimpse into my home with no "ugly staging." That's why I've been perplexed as to what's going on. I think I'm being obedient, but it looks fruitless and really BAD on the outside…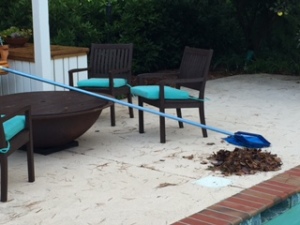 I did clean out the stuffed-to-gurgling skimmer and even some of the leaves in the pool, but all while I was on the phone with a friend, so I couldn't finish the job well… (half-baked is a theme around here)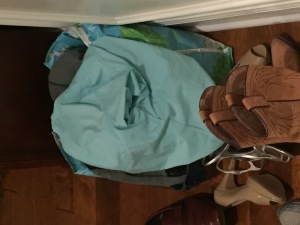 The suitcase is still partially packed from a weekend getaway… 2 weeks ago. It's become a makeshift dirty clothes hamper. The heels were from last weekend's wedding (I didn't decide which to wear until we arrived), the boots from the Young Life Banquet — all reminders of wonderful times, but I'm sure Rob wishes they weren't just inside the bedroom door!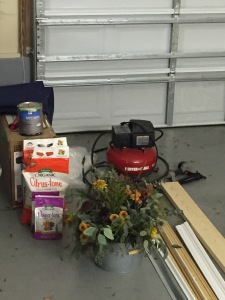 This pretty flower arrangement could have been separated into several nice gifts for neighbors after the event. What a great excuse to drop by for a visit! Instead it's been in the garage… next to the citrus fertilizer I need to spread. Or did I miss that window?
I could go on… message me for the other 10 snapshots if you need more evidence that God's directives can look messy.
I have ample time on my hands to do all that's left undone. I just haven't been using my extra hours to accomplish much of anything. Maybe like me you're sort of dismayed by my neglect. I've been hard on myself, but unable to "get it together," because the call I've felt to "be still" is much stronger than the urge to jump in.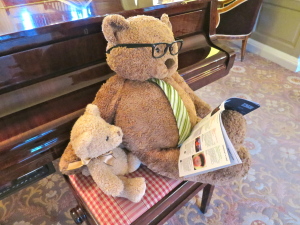 Psalm 39:7 "And now, Lord, what do I wait for and expect? My hope and expectation are in You."
I have made time to rekindled the gift of hospitality and met with or talked to numerous family and friends. We've shared, laughed, cried and prayed. I've been involved with a variety of people, but not in my usual activities.
In a scheduled world where so many people are driven to get things done, I have very little to show for my time these past months. God has given me permission to be available, unstructured and present with others. To rest and to be alone with Him, without words.
I've been able to "be there," precisely because I'm not really needed anywhere else. I've felt uneasy with change. It hasn't been glamorous or noteworthy — but maybe it's been fruitful. I'm learning to let my life be a simple gift. To pay attention and be present. And that my "work" is no less valuable when it's unannounced and unseen.
I think my Granny's life held more secrets to the truth of John 10:10 than I ever realized.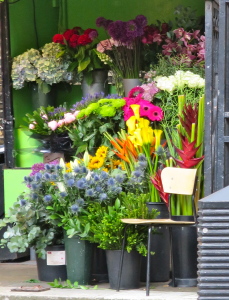 I'm even starting to see the Godliness inherent in the mundane daily tasks required to keep the wheels on my bus — I just have a whole lot of catching up to do!
My undertakings aren't very exciting in and of themselves, but I'm developing a refined taste for them and a new joy in each moment. I think it's because all these little tasks comprise the humble everyday work of being me. Of life to the full.
What about you?  Philippians 1:6 says "And I am certain that God, who began the good work within you, will continue his work until it is finally finished on the day when Christ Jesus returns." His work is ongoing.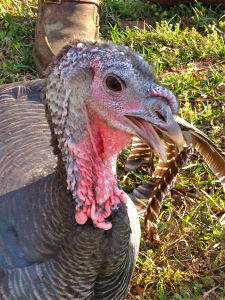 Are you so busy doing what you do, that there's no space for the Holy spirit to speak something new? Jeremiah 2:25 says, "Slow down. Take a deep breath. What's the hurry? Why wear yourself out? Just what are you after anyway? But you say, 'I can't help it. I'm addicted to alien gods. I can't quit.'"
Or are you in transition — missing the "old days" and wondering if life will ever be vibrant again?  "But one thing I do, forgetting those things which are behind and reaching forward to those things which are ahead. I press toward the goal for the prize of the upward call of God in Christ Jesus." (Philippians 3:12)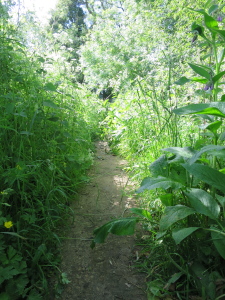 Maybe you have to spend more  time than you ever imagined managing invisible health issues? Psalm 92:14 — "They will still yield fruit in old age; They shall be full of sap and very green."
What is God whispering in your ear? Will you still yourself to listen and let God do a new thing? "May the God of peace Himself sanctify you completely; and may your whole spirit, soul, and body be preserved blameless at the coming of our Lord Jesus Christ. He who calls you is faithful, who also will do it." (1 Thess 5:23 – 24)
If this post resonated with you, please share it through the social media buttons at the bottom of the page. If you'd like to receive future posts to your inbox, let me know in the comments below. Or you can join the Pink Reflections  Facebook community. Thank you!